Scrabble New South Wales
Australia vs Singapore ISC Team Challenge 28 Jun 20
---
Australia Team
1. cazunique (Karen Richards)
2. doe35813 (Victor Tung)
3. hapless (Esther Perrins)
4. TrevH (Trevor Halsall)
5. jantay (Jane Taylor)
6. Juliebrice (Julie Brice)
7. Glendi (Glenda Harington)
8. thechase (Peter Shaw)
9. foxwood (Bob Jackman)
10. ozzz2002 (Greg Pinchbeck)
Reserve
1. TBA (Adam Kretschmer)

Singapore Team
1. fla (Hubert Wee)
2. zanjero (Marlon Prudencio)
3. leontan (Leon Tan)
4. guanhui (Lee Guan Hui)
5. merlion (Tony Sim)
6. alchemist9 (Michael Tang)
7. singhvi (Nidhi Singhvi)
8. rafakenny (Dylan Sharma)
9. atay8 (Adrian Tay)
10. emeryz (Tham Kai Wei)


Playing Schedule
Logon to ISC not later than 9:50am SG | 11:50am NSW

SG | NSW times
Round1 10:00-10:32am | 12:00-12:32pm
Round2 10:35-11:07am | 12:35-1:07pm
Round3 11:10-11:42am | 1:10-1:42pm
Round4 11:45-12:17pm | 1:45-2:17pm
Round5 12:20-12:52pm | 2:20-2:52pm


35-min Break 12:55-1:30pm | 2:55-3:30pm

Round6 1:30-2:02pm | 3:30-4:02pm
Round7 2:05-2:37pm | 4:05-4:37pm
Round8 2:40-3:12pm | 4:40-5:12pm
Round9 3:15-3:47pm | 5:15-5:47pm
Round10 3:50-4:22pm | 5:50-6:22pm


Posting of Final standings ~4:30pm | 6:30pm
Tourney ends

Draw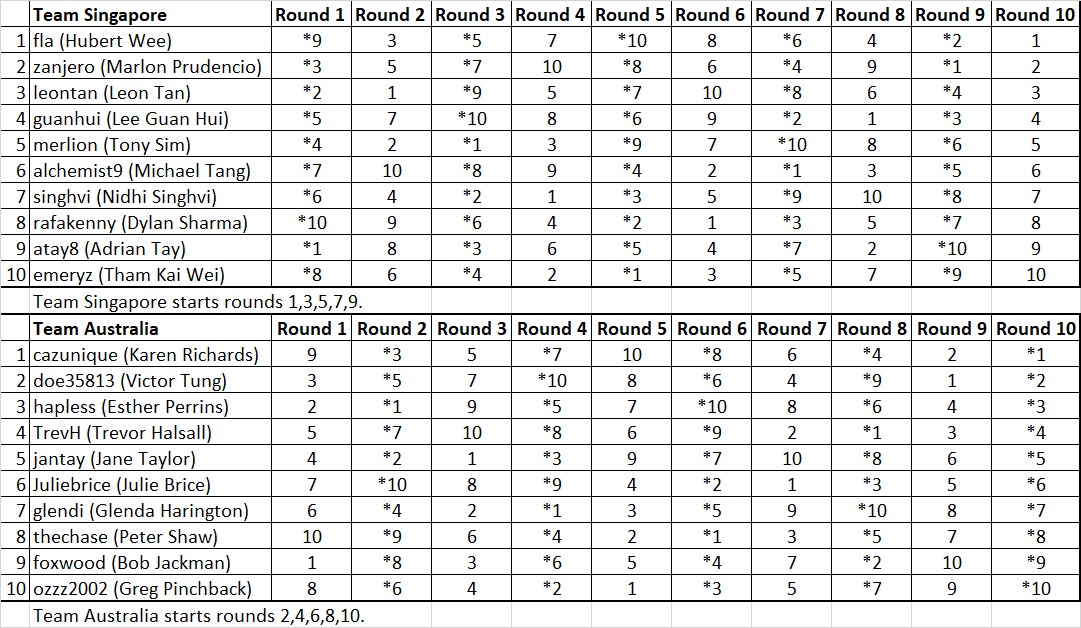 Links
for viewing draw as pdf file pdf draw
for submitting game results https://tinyurl.com/sgauisc20
for viewing current standings https://tinyurl.com/sgauisclive

Playing Instructions/Rules for Players
Some tournament instructions/rules: 1. Put "Channel +88" in command line once logged in. Any question or msg during tourney, use "Tell 88 "
2. Game/Match ISC Variables: 16 mins initial time, 0 increment, 0 quietplay, 0 mood, SOWPODS dictionary, 5-pt challenge. ISC Formula: opponent's rating: 0 minimum, 9999 maximum
3. Starts: The player with the * starts. PASS (do not change tiles) if it is your opponent to start. Pls follow the STARTS strictly. If the non-starting player made the first move or changed tiles, the player who is supposed to start has an option to abort or continue the game. But pls do not abuse this rule. You are really supposed to PASS even if you have crappy tiles to begin with.
4. Results of each match: the WINNER will submit result using the link provided. In case of DRAW, the player who played first will submit the result (doesn't matter who is the "Winner ISC Handle" as long as scores are the same). Make sure you press SUBMIT. If you are using Smart Phone, after clicking Submit, please click "Submit Another Response" (just click only) before locking phone. Smart phones have some glitch during locking of phone in that it refreshes the page and tend to do what has just been done (causing double submission of results)
5. If you forfeit on time (ISC allows only up to 1 minute overtime if 0 increment is set), you lose the game even if you are ahead. If you are ahead and forfeit, we use the loser's score minus 10. So Player1 400 Player2 380 but Player1 forfeit on time the result is Player2 380 Player1 370
6. Make sure WiFi works ok or if you use data that you have enough data for connectivity. If your opponent gets disconnected, PLEASE TYPE ADJOURN (so ISC will not adjudicate). If you remain disconnected for more than 5 minutes the game is ruled in your opponent's favor if both players have played at least one move. The final score will be 400-350 in favor of the player who remained online. Similarly, if you or your opponent don't match each other 10min after scheduled time then the match is ruled in favor of the person who sent a match request. If you do not show up at all in your match or late by 10 mins of the scheduled match, you lose and the final score is 400-350 in favor of the player who is online.
7. Make sure your laptops are charged and/or constantly plugged in during the tourney.
8. Upon starting a game, say 'Hello' and 'have a good game'. During the game, refrain from saying anything unless really necessary. When the game is finished, say 'tyftg' or 'wp'.
9. You may check the live results at any point in time via the link provided
10. Most of all, play fair and square (win honestly and without cheating). No consulting of dictionary, Quackle or any word checker/tool to check words DURING your game (you may do so during breaks). HAVE FUN and ENJOY THE GAMES!