A motza of majors
Andrew recently became a full Australian citizen. Previously, he called England home. In Britain, he built an awesome reputation as an elite player. He not only won the National Championships, but also captured highly-rated events such as the British Matchplay, Summer Masters and BEST title (a knockout event). He represented England at five World Scrabble Championships, twice finishing in fifth place.
After a couple of exploratory visits to Australia, Andrew finally settled in Melbourne in 2002. He works as an auditor and lives in Camberwell with his Aussie partner, Phillip. Andrew exercises 2-3 times a week at the local gym to keep healthy. He claims working out has an interesting side effect — a stamina boost which he can draw upon in lengthy Scrabble tournaments.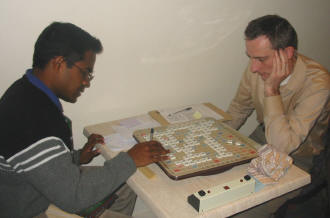 Naween Fernando vs Andrew Fisher,
Victorian Championships, Melbourne, June 2003
A ground-breaking work
Andrew has co-authored a book with David Webb about their favourite game. The book is is now published — The Art of Scrabble. It focuses on strategies and mental techniques for self-improvement which are not widely known. Andrew's phenomenal achievements are strong evidence that these techniques can work wonders (especially when teamed with natural talent and self-discipline). Perhaps Andrew will also recount how he once achieved a game score of 719, including more than 230 points for the nine-timer JALOPIES. Or maybe the time he played THRIDACE, which Chambers Dictionary defines as 'inspissated lettuce juice'. Yum!
Scrabble Highlights:
UK rep at World Championships: 1991 (20th); 1995 (20th); 1997 (22nd); 1999 (5th); 2001 (5th); Australian rep 2003 (29th).
Runner-up, Australian Championships 2005
Runner-up, Kings Cup (Bangkok) 2004
BEST Champion (British Elimination Scrabble Tourney) 2001
UK National Scrabble Champion, 1996
British Matchplay Scrabble Champion, 1993, 1998 (SOWPODS Div)
British Summer Masters Champion, 1993
ABSP Invitational Masters Champion, 1998
Runner-up, Channel News Asia, 1999
Exeter (Easter) Champion, 1996, 1999 (SOWPODS Div), 2002
Durham Champion, 1992
City of Sydney Masters Champion, 2003
Runner-up, Victorian State Championships, 2003