Bob Jackman
Twice Australian National Champion
Holder of Highest Game Score record in Australia

WSC Representative: 1993, 1995, 1999, 2003
Trans Tasman Representative: 1996, 1998, 2000, 2002, 2004

Age: 54
Occupation: Records manager
Location: Sydney
A family affair
Bob is married to Liz, who he met through the fledgling North Shore Scrabble Club in 1989. They honeymooned at the 1996 Norfolk Island Scrabble festival. Bob has two grown-up sons from a previous marriage. Both Michael (25) and Justin (23 were regular tournament players as youngsters. Bob also enjoys playing tennis and barracking for the Sydney Swans in Aussie rules football, and has recently become a regular City to Surf participant.
Bob has been president of ASPA (NSW) for over 12 years and also served a stint as National Coordinator of CASPA a few years back. Bob's vision has helped the game progress enormously in NSW and throughout the country. He is also a co-founder of the TransTasman Challenge, a biennial event between Australia and New Zealand. Indeed, Bob turned in the strongest performance in the initial event in 1996, to claim the once-off title of 'Australasian Champion'.
More than 2000 games
Bob never rests on his achievements. He has notched up an incredible number of tournament games in Australia over the last ten years or so — more than 2500 at last count. Bob has won State titles all over the country as well as two national crowns. Many Aussies have tried — and failed — to find a weakness in Bob's powerful all-round game. He has also performed strongly in overseas events. Bob keeps a detailed record of his performances against all other players. Few can boast a 50% win/loss ratio against him. Bob earned his place in the Aussie world team in 2003 with a narrow win in the final round at the Australian Championships in Adelaide. He overcame an early nine-timer to seize a memorable win over John Holgate, a five-time world rep.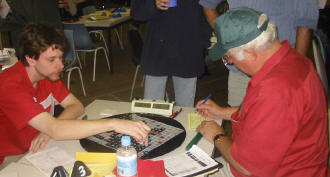 Edward Okulicz vs Bob Jackman, Adelaide, 2003
Team Australia 2004 Player profiles
Websites and Publications
Bob keeps three websites up-to-date with useful Scrabble-related information. His SOWPODS International website has been operating for many years, and is the source of useful word lists, ratings and tournament software and the unofficial International Ratings. Bob has rated every international event since 1993 into the system, often having to manually recreate the tournament to rate it. Bob also maintains the Scrabble NSW website on behalf of ASPA (NSW). Comprehensive records of all NSW tournaments since 1997 are included on the site. The other website maintained by Bob is the NSW School Scrabble site, a source of information for schools wishing to join the existing NSW network.
Bob is also the author of the popular series of word booklets by word length, from threes through to eights.
Scrabble Highlights
Australian rep at World Championships: 1993 (56th), 1995 (37th), 1999 (26th), 2003 (39th)
Australian Champion: 1993, 2003
Australian Captain, Trans Tasman Challenge: 1996, 1998, 2000, 2002
Runner-up, Asia-Pacific Championships, 1998
NSW Winter Masters Champion: 1995, 1998, 2002, 2003
NSW State Champion: 1993, 1994, 1995, 2002, 2004
SA State Champion 2001
Vic State Champion 1995, 1998
Qld State Champion 1996, 1997, 2001
ACT State Champion 1993, 2001