Cheah Siu Hean

Australian Championships 2002

Singapore Sweeps Masters in Freo

- Steve Sunter steve@scrabble.org.au
A strong overseas contingent kept the locals out of the top places in Fremantle over the Easter weekend. Cheah Siu Hean (Singapore) held onto his early lead to claim victory on the third day. His impressive last-round victory relegated local favourite Paul Cleary (NSW) to third place. Paul is a three-time Australian Champion with strong recent results in Asia. Tony Sim completed the quinella for Singapore. He snatched second place after a tense final game against local improver Michael Cameron (SA). Michael finished in 50th place the previous year in Melbourne. His fourth placing this second time around shows just how much can be achieved in twelve months.
Running hot
Cheah notched up 17 wins from 21 games. His strong performance was presaged by a clean sweep of ten wins in a local warm-up tournament the previous weekend. His total wins in the Australian Masters Championship equalled the result of last year's winner, Edward Okulicz (Bob Jackman also scored 17 wins in that tournament but Ed had a larger margin). In the final game, Cheah reached 300 points in just four moves. However, Paul Cleary fought back aggressively with some fantastic plays. The final board was a fitting showcase of both players talents.
Strong field; Warm atmosphere
WA attracted a strong field with all Australian states well represented at the Fremantle Italian Club. Unfortunately, both Edward and six-time champion John Holgate were unable to attend this year's event. Tournament organisers Maureen Gill and Glenys Lawrie received unanimous praise from players for this well-run event. First-time Director Sue Omodei kept the whole show running smoothly (ably assisted by many local volunteers). Spot prizes for unusual words and random giveaways added interest to the event. Fremantle turned on fabulous weather throughout the Easter period. Many players dined al fresco each evening and enjoyed the three-day Buskers Festival centred around South Terrace and the wharves.
A gentleman and a scholar
Cheah clearly enjoyed his win - His gentlemanly conduct earned him the respect and friendship of many locals. Cheah is an Oxford graduate who has played second fiddle to his countryman Tony Sim for several years. Indeed, Tony has previously won the Australian championships back in 1995 (and finished runner-up in 1997). But this time Cheah was the front-runner and Tony was only able to make up ground on the final day. Cheah has also been active in the internet Scrabble community for several years. He plays under the pseudonym "ean".
From near & far
The two-day open tournament was won convincingly by Muriel Berman. Runner up was local Kim Quek with third place claimed by another Singaporean, Raja Dorai. Players from Malaysia and Nigeria also competed in the main event.
A post-tournament dinner was held at Fremantle's Orient Hotel. Trophies presented included a hand-crafted jarrah clock, with several prizes donated by local WA Scrabble clubs. Stories of amazing plays and strange happenings were freely exchanged at the bar.
SA to host in 2003
Next year's Australian Masters Championships will be held over Easter in Adelaide. The venue in Glenelg is just a few minutes stroll from a world-renowned beach, international hotels, shopping and entertainment areas.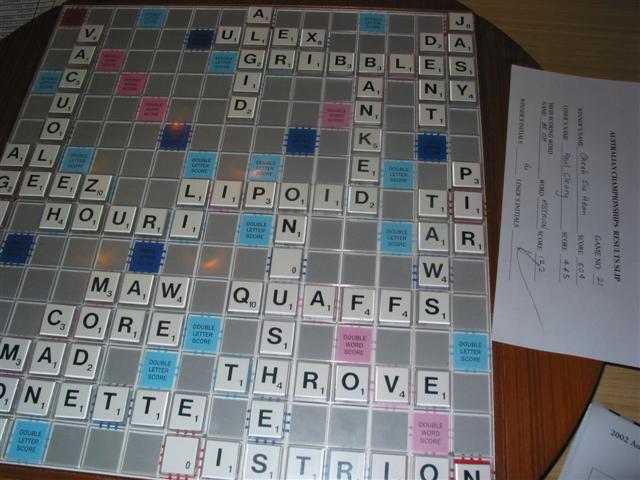 King of the hill round - Cheah Siu Hean (504) d. Paul Cleary (445)
Words played: ONrUSHES, hISTRION, NONETTE, GRIBBLES, VACUOLES, LIPOID, THROVE, ALGID, GEEZ, JASY, ULEX, HOURI
Photo gallery 1 - Main events
Photo gallery 2 - Presentations & social activities