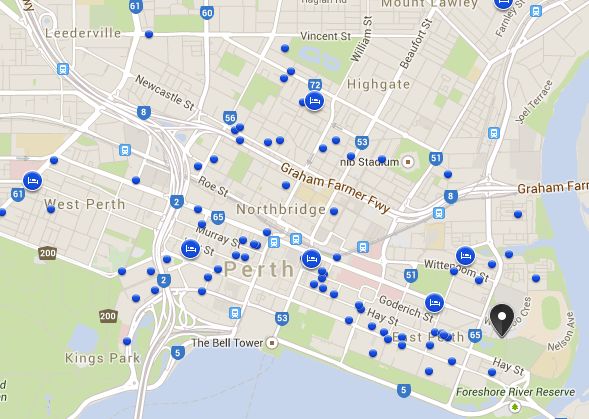 The tournaments are not linked with accommodation in any way. You must make your own arrangements. East Perth is within easy walking distance from the centre of Perth. There are many accommodation options nearby. Click the map to see Trip Advisor suggestions.
Budget accommodation
The following is a small selection of the hostels/backpacker accommodation in Perth near to Gloucester Park. Some have individual rooms as well as small dormitories (3-6 beds), most offer free wifi and breakfast, and are very good value for money. Be aware that some of these hostels will not accept Australian guests; they are only for overseas travellers, so check before booking.
Although these are the most recommended hostels within close proximity to the venue, see
Trip Advisor
or
Hostel World
for more choice.
Prices are correct at 20 July 2015 but depend on room type and will fluctuate, particularly as we get closer to the event.
WICKHAM RETREAT
25-27 Wickham Street, East Perth
T: +61 (0) 8 9325 6398
Tariff: $35+pn
www.wickhamretreat.com
BANJO'S BACKPACKERS
150 Claisebrook Road, East Perth
T: +61 (0) 8 9228 9525
Tariff: $23-$54pn
www.banjosbackpackers.com.au
EXCLUSIVE BACKPACKERS
156 Adelaide Terrace, East Perth
T: +61 (0) 8 9221 9991
Tariff: $57-$104pn
www.exclusivebackpackers.com
TOWNSEND LODGE
240 Adelaide Terrace, Perth.
T: +61 (0) 8 9325 4143
Tariff: $52-79pn
www.townsend.wa.edu.au
BAILEYS MOTEL
150 Bennett Street, East Perth
T: +61 (0) 8 9220 9555
Tariff: $160pn, twin room
www.baileysmotel.com.au
Hotels and Apartments
The following accommodation is situated near East Perth, or close to the free CAT bus. Prices are correct at 20 July 2015 as given by the hotels themselves, but will almost certainly rise as we get closer to the event. However, better deals may well be found through sites such as
www.booking.com
. The accommodation is listed in approximate price order, low to high.
*Indicates apartment hotel
For reviews and further information, check Trip Advisor (
www.tripadvisor.com.au
).
TOWNSEND LODGE
240 Adelaide Terrace, Perth
T: +61 (0) 8 9325 4143
Tariff: $52-$79pn
www.townsend.wa.edu.au
TRAVELODGE PERTH
417 Hay Street, Perth
T: +61 (0) 8 9238 1888
Tariff: $129 pn
www.travelodge.com.au
WENTWORTH PLAZA HOTEL
300 Murray Street, Perth
T: +61 (0) 8 9338 5000
Tariff: $140pn
www.wentworthplazahotel.com.au
KINGS PERTH HOTEL
525 Hay Street, Perth Central (cnr Pier St)
T: +61 (0) 9323 2777
Tariff: $165pn
www.kingshotel.com.au
COMFORT HOTEL, PERTH CITY
200 Hay Street, East Perth
T: +61 (0) 8 9220 7000
Tariff: $170pn
www.chpc.com.au
PERTH AMBASSADOR HOTEL
19 Adelaide Terrace, Perth
T: +61 (0) 8 9325 1455
Tariff: $170pn
www.ambassadorhotel.com.au
HOTEL IBIS
334 Murray Street, Perth
T: +61 (0) 8 9322 2844
Tariff: $190pn
www.ibishotels.com.au
*SEBEL, EAST PERTH
60 Royal Street, East Perth
T: +61 (0) 8 9223 2500
Tariff: $200pn
www.thesebel.com
MERCURE HOTEL
10 Irwin Street, Perth
T: +61 (0) 8 9326 7000
Tariff: $200pn
www.mercure.com.au
FOUR POINTS BY SHERATON
707 Wellington Street, Perth
T: +61 (0) 8 9327 7000
Tariff: $220pn
www.fourpointsperth.com
*MANTRA ON MURRAY
305 Murray Street, Perth
T: +61 (0) 8 9347 7000
Tariff: $220pn
www.mantraonmurray.com.au
*MANTRA ON HAY
201 Hay Street, East Perth
T: +61 (0) 8 9267 4888
Tariff: $230pn
www.mantraonhay.com.au
MISS MAUD SWEDISH HOTEL & RESTAURANT
93 Murray Street, Perth
T: +61 (0) 8 9325 3900
Tariff $250pn
www.missmaud.com.au
CROWN PLAZA
54 Terrace Road, Perth
T: +61 (0) 8 9325 3811
Tariff: $259pn
www.crownplaza.com
NOVOTEL LANGLEY, PERTH
221 Adelaide Terrace, Perth
T: +61 (0) 8 9221 1200
Tariff: $270pn
www.novotelperthlangley.com.au
*QUEST WEST END HOTEL
451 Murray Street, Perth
T: +61 (0) 8 9480 3888
Tariff: $270pn
www.questwestend.com.au
DUXTON HOTEL
1, St George's Terrace, Perth
T: +61 (0) 8 9261 8000
Tariff: $280pn
www.duxtonhotels.com
HOLIDAY INN CITY CENTRE
778-788 Hay Street, Perth
T: +61 (0) 8 9261 7200
Tariff: $300pn
www.holidayinn.com
PAN PACIFIC
207 Adelaide Terrace, Perth
T: +61 (0) 8 9224 777
Tariff: $300pn
www.panpacific.com/en/hotels-resorts/australia/perth
THE TERRACE HOTEL (BEST WESTERN PREMIER)
237 St. George's Terrace, Perth
T: +61 (0) 8 9214 4444
Tariff: $349pn
www.terracehotelperth.com.au
CROWN METROPOL (CASINO)
Gt Eastern Highway, Burswood
T: +61 (0) 8 9362 8888
Tariff: $358pn
www.crownperth.com.au/hotels/crown-metropol
HYATT REGENCY
99 Adelaide Terrace, Perth
T: +61 (0) 8 9225 1234
Tariff: $375pn
www.perth.regency.hyatt.com