Getting to Perth
Karen Richards must be the most travelled Scrabbler in the universe. Here are her tips:
The cheapest way is to get to Australia is to use a long-haul carrier, eg Emirates, to get to a location in South East Asia and then use one of the budget airlines based there. Karen's list in order of preference is:
Scoot
(Singapore Airlines budget arm)
Tiger
(owned mostly by Virgin)
Jetstar
(owned by Qantas)
Air Asia
(Malaysian)
From the US, if you prefer to cross the Pacific Ocean, then fly across Australia, then both
Virgin
and
Qantas
do direct flights. You can join their emailing list for sale fares.
You may wish to visit the east coast of Australia before or after. Once in Australia, there are for four airlines to compare -
Tiger
,
Jetstar
,
Virgin
and
Qantas
Note that there is likely to be a major tourney in Singapore on the weekend after WESPAC, with Princess Cup (Thailand) likely to be the next week after that.
Airlines flying to Perth
Air Mauritius, Air New Zealand, AirAsia, Cathay Pacific, China Southern, Emirates, Garuda Indonesia, Jetstar, Malaysia Airlines, Philippine Airlines, Qantas, Qatar Airways, Scoot, Singapore Airlines, South African Airlines, Thai Airways and Virgin Australia.
Search engines
There are several excellent resources for finding good flights, but some of these are unaware of the budget airlines based in Asia. Here are some good links:
Webjet
Adioso
Hipmunk
A long trip can often be broken nicely with a layover, and you may even save money in the process. You can plan a good schedule, with several days stopover along the way or just a brief layover using QuestOrganizer

Visitor entry requirements
All travellers other than Australian and New Zealand citizens need to present the following documents to officers in immigration clearance:
a valid passport or other acceptable travel document
a valid visa or authority to enter Australia (including electronic visas)
a completed and signed Incoming Passenger Card, including health and character declaration
If you do not hold a current Australian passport you will need a visa to travel to Australia, and you should check visa requirements before you book your travel. All the information you need in the first instance can be found at
www.immi.gov.au
.
Passport holders from certain countries will need a letter of support for their visa application, and once your place has been confirmed this can be obtained from the project manager for the WESPA Championships, Louise Love at louiselove.oz@bigpond.com. You will need to give Louise the details of the Australian Embassy or Consulate in your country, together with the name of the person responsible for dealing with visa enquiries. You should apply for your visa as soon as you have registered and paid for the tournament. Different visas apply depending on where you're travelling from, whether you have certain health problems, or previous criminal convictions and, depending on the circumstances, your visa may take up to 4 months to be granted.
Contact information for the Australian visa office for your country can be found here:
www.immi.gov.au/contacts/overseas/index.htm
Visitors from some countries will be required to lodge biometrics information; the relevant countries are listed here, together with further information on how to proceed:
www.immi.gov.au/allforms/biometrics/offshore/countries.htm
Travel Insurance
You are advised to get travel insurance. The cost is minimal compared with potential costs of medical treatment in Australia.
Getting around in Perth
From the airport

A typical taxi ride from the Domestic Airport to the City is around $30 ($35 from the International). There is a $2 airport tax payable on top of the fare.
UberX is about $22.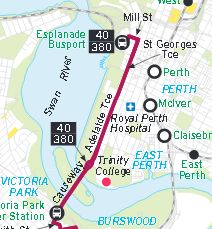 Transperth has half hourly bus services 40 (terminals 3 and 4) and 380 (terminals 1 and 2 commencing on Sun 1 Nov) connecting the airport with the Esplanade Busport. Download a
PDF file
of the timetable.

Another possibility is the CONNECT shuttle but this operates from Domestic Terminal 3 (T3) only. If you have arrived at International Terminal 1 (T1) or Domestic Terminal 2 (T2) please take the free terminal transfer bus which operates seven days a week to T3. This journey takes approximately 15 minutes. Domestic Terminal 4 (T4) is a short covered walk to T3, please follow signs for the Perth city shuttle.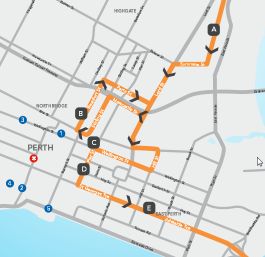 On weekdays the CONNECT shuttle leaves on the hour eg 9am … 10 pm (Sat and Sun have reduced services) and drops off at five convenient city locations:
East Perth train station
WA Museum, Beaufort Street
Opposite the YHA Backpackers Hostel, Wellington Street
The Kings Perth Hotel, corner of Pier Street and Hay Street
Ambassador Hotel, Adelaide Terrace
The Connect shuttle from the Domestic Terminal to Perth costs $15 per person one way and you can pay the driver when you get on.
For more information and operating times check
www.perthairportconnect.com.au
From the city centre to Gloucester Park
It is walking distance, but it is possible to take a taxi or one of the local buses. Google Maps will give help with walking directions and buses. If you have a smart phone, there are good no contract SIM cards available for visitors from
Amaysim
and
Optus
and others, readily available at newsagents and supermarkets.
Travel around Perth
Below is a map of Perth's CAT (Central Area Transit) buses. Click the map to download a PDF file with the map and timetable. These buses are free to use, with plenty of stops around the central area.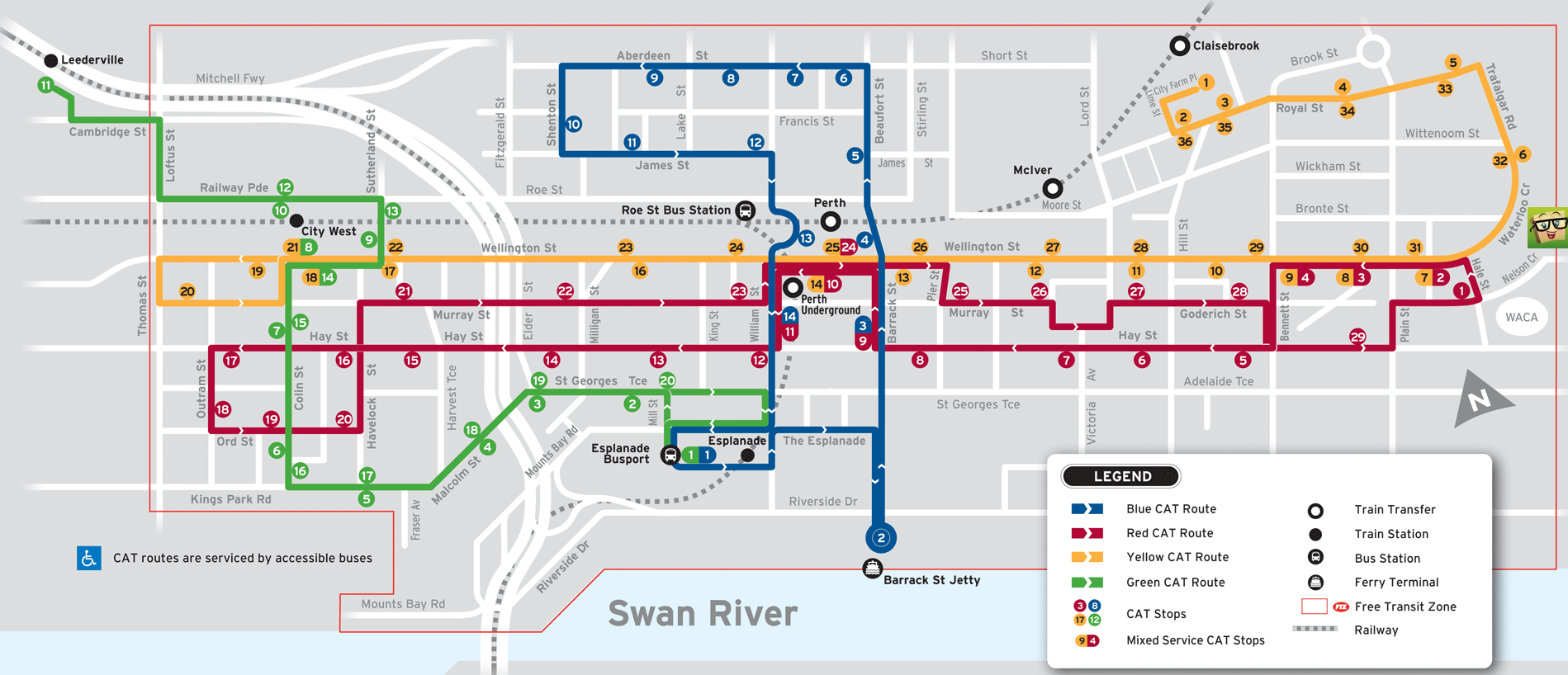 Gloucester Park is just off the map, next to WACA on the far right hand side. The closest stop is Stop 1 on the Red CAT or Stop 7 on the Yellow CAT.
The inner city travel is free but if you want to use the trains or buses outside the central area in Perth, you can pay cash or if you prefer you can purchase a SmartRider card, which costs $10 but gives 15% discount on fares. It is available from the main station and many newsagents.
If you are intending to book accommodation out of the central area, you may wish to check your journey on public transport before finalising your arrangements. The Transperth website www.transperthwa.com.au lets you plan your journey giving a guide to how long it should take although, as with any major city, you should allow an extra 10-15 minutes for traffic in the mornings.
Parking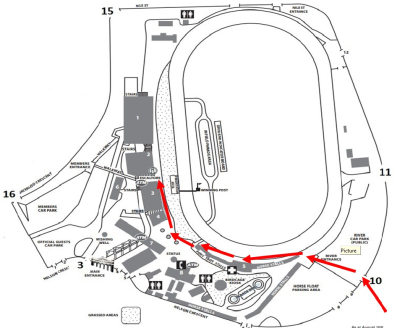 For our events, Gloucester Park provides free parking in the following gates.
TUES/WED/THURS/FRI :
GATE 10 = RIVERS CAR PARK
SAT/SUN :
GATE 16 = MEMBERS CAR PARK
Gates will be locked by security at 20:30 each night apart from Tuesday as it is a Race Night.
Tourism
It will be late spring in Perth. See
experienceperth.com
for information on things to see and do, accommodation, attractions and tours.